Whole Home Performance
You and your family deserve to be comfortable, safe, and healthy in your home. Gundlach's offers expert home performance services that increase in-home safety, comfort, and energy efficiency!
Interested in a home energy audit in Bakersfield? We can help! A Gundlach's certified home performance advisor will look at all the parts of your home and provide improvement options tailored to your needs. Utilizing state-of-the-art testing equipment, we can easily pinpoint any components that are negatively impacting your health, comfort, safety, and utility bills. An experienced installation crew then performs the entire scope of work. As your whole home performance specialist, we handle the entire design, installation, and completion of your project. Talk to us today about how you can improve home energy efficiency while keeping your family comfortable year-round.
---
Gundlach's Service is also a proud member of the "GreenHomes America Network." GreenHomes America is an exclusive network for home performance contractors, which gives us the best resources and most up to date training for our employees so that we can help our customers earn the best energy rebates available for their upgrades. Learn more about the Greenhomes America Network here.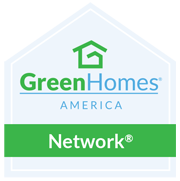 –
---

4 Steps to a Safe, Comfortable, and Energy Efficient Home
Step 1: Whole Home Assessment
---
Our building analyst is highly trained and certified by the Building Performance Institute. When you call Gundlach's for a home energy audit, a certified analyst comes to your home and performs several tests including:
Infrared camera scan
Air conditioner, furnace, and water heater efficiency evaluations
Home air leakage test
Duct leakage test
Insulation quality and R-value rating
Window and door efficiency evaluations
Step 3: Home Improvements
---
Once you customize your improvement plan, an experienced installation crew performs the entire scope of work that you selected based on our recommendations.
Step 2: Assessment Report
---
After fully assessing your home, an energy consultant will provide options and costs for each recommendation and you can choose which improvements you would like to make. They will also show you projected energy savings for after your home improvements are complete.
Step 4: Enjoy Results
---
A safer, healthier, and more comfortable home
Improved home durability
Lower utility bills
Higher resale value
Reduced carbon footprint
---